A book for everyone
The Boy With The Sword is a fast-paced fantasy adventure, suitable for ages eight and up. The sequel to Dragon Run, it stands on its own as a complete novel. There's no need to read Dragon Run first.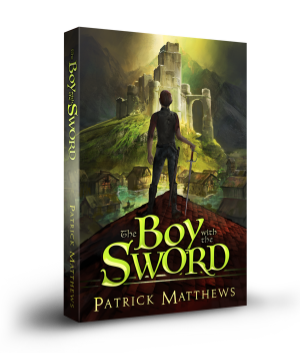 How far would you go to save your home?
A lot has happened since Al left home.
He's learned to sail, fought assassins, faced down dragons, even seen an entire city be destroyed.
Now, he just wants to go home.
But Al's home has changed.
The castle and city have fallen under the control of Magister Trejir.
Trejir's soldiers are terrorizing the people of Dockside, and nobody has the strength or courage to fight.
What can one boy with a sword do against the soldiers and magic of Trejir?
Find out in this action-packed sequel to Dragon Run!
People are talking!
The Children's Book Review
says
"Readers that enjoy action will gladly travel through this fantasy realm with the sword-wielding Al "
Kirkus Reviews
calls it
"Effective worldbuilding, strong character development, and fast-paced action make for an entertaining adventure."
and says that
"Matthews takes his exciting sword-and-sorcery tale to some unexpected places here, with well-drawn vignettes of Dockside society and a compelling backstory."